I received an email over the weekend.  It seems to have come from an employee of Crushpad, an urban winery based in San Fransisco that I have been casually following over the years.  The sender told me about an upcoming live online (on twitter) wine tasting event.  A portion of the proceeds from this online event will go to a charity supporting children's literacy (http://www.fledglingwine.com/), so I was happy to help promote the endeavor.
To hear (via video) or see more about this tasting event, you can go here.
Several aspects of this story really peak my interest.  I like the idea of tasting wine & supporting a good cause.  I think tasting wine online with others is kind of cool.  And I really like that the four samples will allow people to compare (and contrast) wines that are made from the same fruit but have been made differently.
The way I understand it, participants will receive four mini-samples (50 ml.) in total – consisting of 2 different wines.  Each of the two wines however had some that has been moved into oak barrels for aging, while some remains in their original "home" – stainless steel tanks.
This is a great way for people to learn about the effects oak barrels have on wine before it is bottled and made into its finished product.
But there is something else here that fascinates me; the little 50ml. (about 1.75 ounces)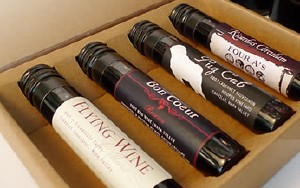 I've spent several years running around "tasting" (sampling) wine professionals on wines I was selling.  I've also watched critics open bottles of wine that barely have a dent put in them before they are unceremoniously poured down an unappreciative drain.  And finally, the expense of mailing journalists wine samples can be so cost prohibitive that some wineries skip the effort & stories often go untold.
The aforementioned uses for these mini-samplers just scratch the surface of their potential uses.  I'm curious how these test-tube like vessels are filled.  Is it done manually or do they have a special bottling line?  Either way this can only be a further positive development for the wine industry & something to keep an eye on.
So go out there, get your very reasonably priced ($14) 4-pack of samples & participate in this educational online wine tasting event!
Happy educational & charitable wine tasting!
WTG
Tags: crushpad, fledgling wine