As many of you know I'm doing some Israeli wine sales these days.  And in general, I have seen a trend with regards to wines and their aging in oak.  It seems in recent years (maybe even just the last year or so) that the wine "professionals" (insert snobs/purists/aficionados/etc.) are shying away from those wines made with judicious use of oak (aging wine in a high percentage of NEW oak barrels for an extended period).  Almost as if they are seeking out any hint of oak in the wine, these wine "professionals" are stating (right or wrong) that oak seems to mask the fruit elements of wine – often where the oak treatment is done to cover a lack of fruit or a flawed wine in general.
I have participated in a discussion on a wine forum regarding oak usage and just today performed what I felt turned out to be a very interesting experiment.  I took out two Cabernet Sauvignons in a similar price range – one made completely without oak (fermented and aged in stainless steel) and the other aged for 6 months in American oak barrels (not certain of % of new oak – sorry).
I have always been a firm believer that different people have different preferences and everybody is RIGHT.  What is most important is listening to your own palate and being confident enough to proclaim that your palate prefers one style to the other.
Well, the experiment proved just that.  I think I probably had about an even 50-50 split in terms of preference.  Some people preferred the fruity unoaked cab while others preferred the less fruity oaked one.  And you know who was right???….  they ALL WERE RIGHT – CAUSE THAT IS WHAT THEIR PALATES TOLD THEM!  Pretty cool huh?!
On a separate note, we are in a recession folks, and guess what… WINE CONSUMPTION IS UPPPP!!!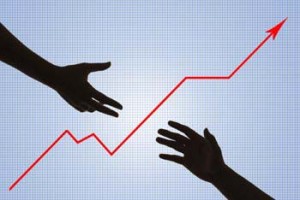 Here is a little excerpt from SPECIALTY FOOD NEWS:
"Wine consumption in America continues to increase, according to the U.S. Wine Market Report. While the weak global economy slowed growth considerably, projections are for another all-time high for the 16th consecutive year. The hottest segment of that growth is the 118 brands from smaller producers. They surged more than 8% last year, while the 50 biggest brands gained only 2-tenths of a percent, reported California Farm Bureau."
Happy un/oaked Wine Tasting!
WTG
Tags: oaked wine, unoaked wine, wine consumption