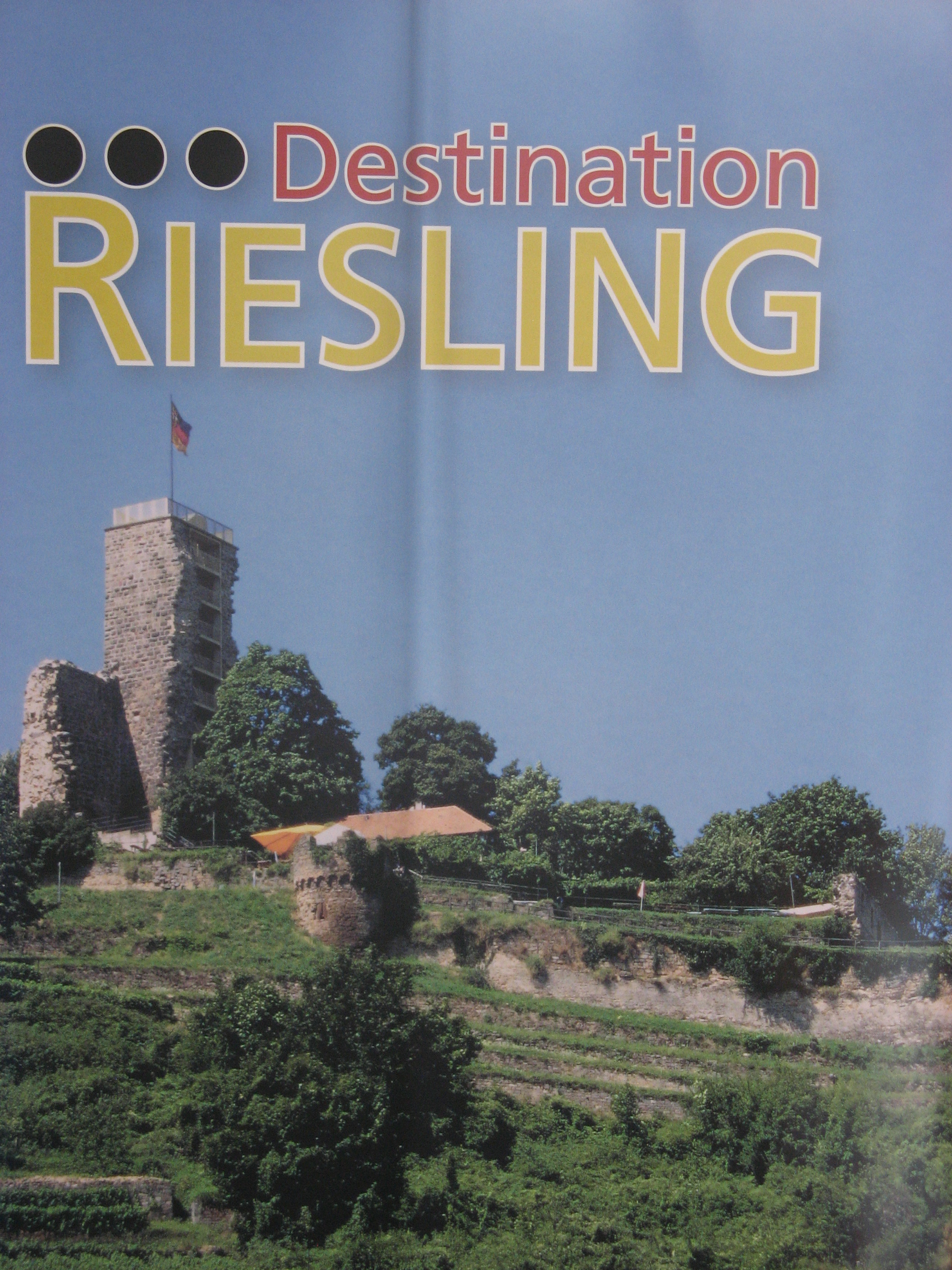 As I mentioned in my post yesterday, I went to the NYC Riesling tasting at the Tribecca rooftop. A beautiful venue right off Hudson Street near the entrance to the Holland Tunnel, the Tribecca Rooftop provides a great escape from the hectic nature of NYC. The tasting had 39 official tables, in addition to an Austrian table, a French table and my favorite, the "1990's: a decade of German Riesling" table.
While I was told that the 2007 vintage was an excellent vintage for German Riesling, I must admit that I was not blown away by any of the newer wines (which included wines from 2005 & 2006). As is usually the case, there were some very fine examples, some adequate examples, and some that I personally did not care for. That said aside from the 18 wines I tried from the 1990's Rieslings, i was only able to get around to tasting 66 other wines from 11 of the 39 tables. In addition to Rieslings, I tasted several Gewurztraminers, a Gruner Silvaner (that had a very nice sweet & floral bouquet but was bone dry), a Riesling sekt (sparkling), Riesling Eiswein (AKA Ice Wine), a Chardonnay, and some varietals I had not previously heard of such as St Laurent (a red & a rose'), Portugieser (a rose') & finally some Pinot Noir (1 red – the only one I tried & 1 rose').
One reason I suspect I was not blown away may have had to do with how the wines were served. The glasses were not the best tasting glasses, but more than that, the wines were all presented on ice and were served VERY CHILLED. While this added to the clean, crisp (or sweet) palate, it made appreciating the bouquet of these wines quite difficult. I would say that I had a difficult time discerning any bouquet on over 50% of the wines I tried.
As to the standouts, the first I want to mention was the Winkels-Herding Winery 2006 Late Harvest Gewrtztraminer. I mention it first because it had an unusual almost shampoo like floral bouquet. This shampoo thing became more soapy on the palate & felt a but flabby at first, although it finished with a crisp acidity. Incidentally I had a 2006 Riesling, also called a "Late Harvest", that was bone dry. I wonder if that had to do with the fact that 2006 was a challenging vintage due to a lack of sun leading to problems with the fruit getting sufficiently ripe.
I tried a Max Muller Winery 2007 Spatlesetrocken that was interestingly reminiscent of rock candy.
The 2006 Riesling Kabinett Berncasteler Doctor from Dr. H. Thanisch had an interesting cirtusy grapefruity thing where it started sweet and then transitioned to a bitter grapefruit rind effect with a long finish.
I most enjoyed the tastings at two of the tables. The first was the "Weingut Roll" table. Christian Roll had a strong German accent but spoke English quite well. He was very engaging and talked a lot about the production of the wines and their vineyards, information i think really rounds out the story of the wines nicely. His 2007 Riesling, called "Edition M & C" (for the two brothers) was the first wine exclusively made by the brothers without their fathers involvement. It apparently was so well received in Germany that poppa Roll has ceded all wine making duties to his sons since. But back to the M & C, Christian explained that it goes through a 3 day maceration period before fermentation. This he explained lowers the (already high) acidity but adds to the body/flavor of the wine as well as increases the bitterness a little bit. But this bitterness Christian believes drops out after a year or two of bottle aging and allows the wines to age more gracefully. The wine itself had bright lively white stone fruit & some grapefruit rind characteristics with a nice crisp mouthfeel and a medium to long finish.
And finally, the treat of the afternoon, was the tasting at the 1990's Rieslings table, which by the way was enhanced by a pourer who was patient, knowledgeable and successfully managed to pour for the crowds at his table. The 18 wines at this table were poured in order, beginning with Spatlese, then Auslese & finishing with 2 Beerenausleses. I had 4 that really stood out for me while there was a 5th that was an apparent crowd favorite. The 1993 Riesling Spatlese Erbacher Marcobrunn had a golden yellow color and was sweet yet balanced with just enough acidity and had a very nice mouth feel to it. The 1990 Spatlese Hattenheimer Wisselbrunnen, Georg Muller Stiftung was a light gold wine with gentle subtle sweetness and amazingly still crisp acidity that I was really impressed by. The 1997 Auslese Ockfener Bockstein St. Urbans-hof was the crowd favorite, but I found it to have a tight nose with subtle fruit & a nice structure – but I was not blown away but it. The 1993 Auslese Trittenheimer Apotheke Bollig-Lehnert on the other hand had a complex bouquet with a sweet round & nicely crisp mouthfeel that left me WOWed. Finally I tried a 1995 beerenauslese that another journalist next to me had just tried and flipped over. It had a golden color and some interesting sweet almond flavors, but I found it to be too thick and somewhat cloying. The last wine I had, the 1990 Beerenauslese Hattenheimer Wisselbrunnen Schloss Reinhartshausen however was gold in color and VERY sweet but it was not thick and cloying. The light but very apparent sweetness was beautifully balanced by an acidity that was quite subtle. This was probably my favorite wine of the day.
The last thing I want to mention about this tasting was the view. While the Tribeca rooftop does actually have a rooftop with spectacular views, the tasting was done indoors. That said, as you can see here the large picturesque windows had some nice views themselves…
That is all for now. Have a wonderful weekend & HAPPY WINE TASTING!
WTG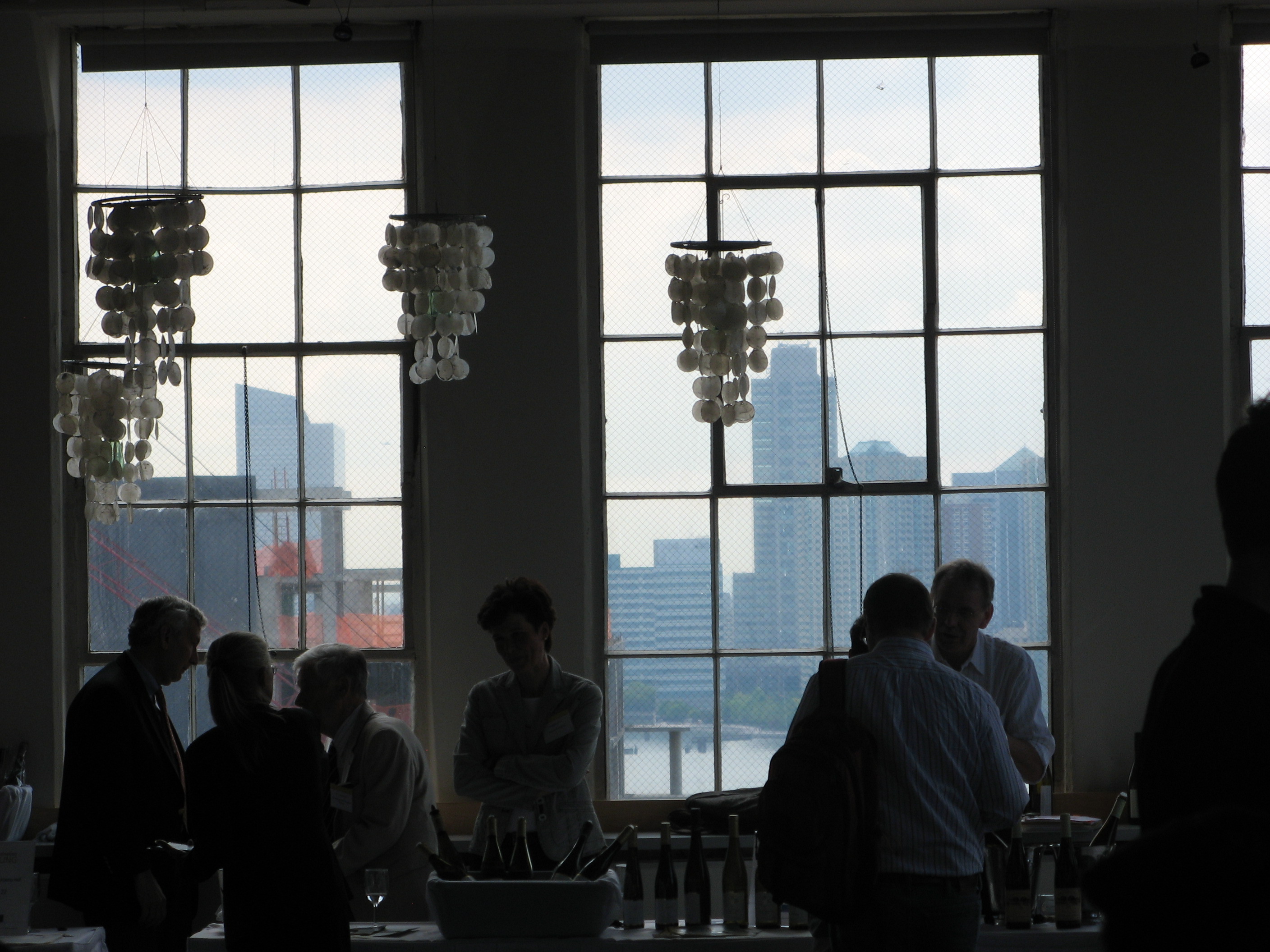 Tags: , Riesling, Tribecca rooftop