This evening I participated in a FUN double blind wine tasting with members of my wine tasting club.  Not to be confused with a triple blind tasting…
…where one does not know anything about the wine they are tasting and they are not even allowed to see the wine.
A double blind is when you CAN look at the wine but you are not told anything else about the wine.
Our group organizer (and frequent host) put together a list of acceptable varietals/regions and set the minimum price at $20.  I suppose since we were working off a list of about 20 -30 varietals & regions that it was not a true double blind, but I tell you what – we sure were laughing at ourselves and having fun.
Anyway, each of 10 of us in attendance brought a wine that fit the list criteria, and brought it in a brown paper bag with a plain brown/tan rubber band.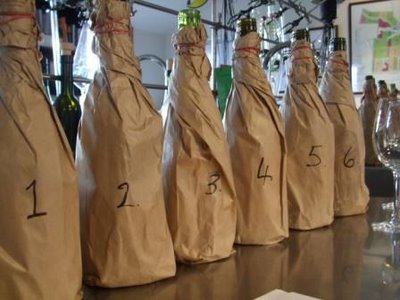 We then numbered the bags and began the tasting with #1.
What added to the fun (besides the no pretension/expectation environment) was that we decided to score our tasting guesses (1 point each; per varietal, country & region) and tally total points.  We each also kicked in $7, and the person with the most points won a bottle of wine.
So how did I do you ask?  Let's just say I could have traded in my "Wine Tasting Guy" moniker for "Wine clueless Guy".
Of the 10 wines I successfully guessed two.  But one of the two was the wine I brought (A Sonoma Syrah) (2 points), so I really only deserve credit for guessing 1 of 9, an Argentinian Malbec (2 points – but I was unsure and thought it might end up being a Chilean Cab).
Of the other 8 wines I scored ZERO on four of them.  I thought a Washington Cab was a Grenache from Priorat, Spain (it seemed light to me).  I guessed a (stinky) NY Cab Franc was a Spanish Rioja.  I guessed a Gigondas was an Italian Piedmont Nebiollo.  And I guessed an Italian Tuscan Sangiovese was a Burgundy.  ZERO POINTS FOR ME.
Of the remaining four I guessed that an Oregon Pinot was a New Zealand Pinot (1 point), That an Italian Barbera d'alba was an Italian Sangiovese (1 point), that another Oregon Pinot was a Sonoma, CA Pinot (2 points – 1 for country and 1 for varietal).  And that an Italian Chianti was an Italian Dolcetto (1 point).
So for those of you counting at home I scored 9 points.  Two other guys scored 9 points…but someone scored 12, another 13, and the winner scored 14.
I was content with how I did, but (happily) realized I have a long wine journey ahead.  And a fun journey it will be.
Happy BLIND wine tasting!!!
WTG
Tags: blind tasting, double blind, triple blind