OK, the "break" references will end soon.  I'll get used to this broken wrist thing.  And all will be normal in BLOGLAND.
But I want to give a quick wrist update.  GOOD NEWS – It appears (X-ray & CT scan) that my break is non-displaced & in the part of the bone that should lead to normal healing.  SO, for now I get a cool cast & no immediate need for surgery (metal objects drilled into my bones).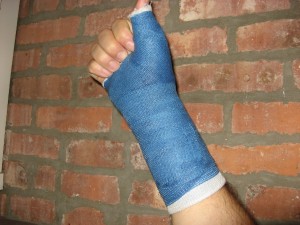 Healing time for this injury is still between 8-12 weeks, so no party.  But the preliminary diagnosis is good.  I follow up with the hand specialist in 2 weeks & will keep you updated.
Now my quick wine related part of this post is something I eluded to in my last post.   I recently met with the proprietor and original winemaker for a NY State (Long Island) winery.  Since I live in NY this is a local winery for  me.  The proprietor has since brought in a trained winemaker to take over, but I learned in my conversation with the gentleman that he is still very hands on.
The winery is called "Red Fern", and they make 4 types of wine, all single varietal. They make a Cabernet Sauvignon, a Merlot, a Syrah & a Chardonnay.  I'll be writing an article about the winery & their wines for a local paper, but I want to tell you that these wines are GOOD.  Very modern in style, the winemaker gets nice extraction out of the fruit which produces fruity, full bodied wines.  I think this is of interest as NY state wines sometimes have a problem with ripeness.  And when the fruit does not fully ripen the wines tend to have a lean & green dynamic to them.  So making wines such as Cabernet Sauvignon & Syrah, varietals that needs lots of sun/heat to fully ripen can be considered a bit risky.  I'd like to see this winery experiment with some Cabernet Franc or Riesling, varietals more commonly associated with NY given their affection for the NY climate.  Nonetheless, these wines (I tasted the 2005's) were very nice and get my recommendation.  And oh yeah, they just happen to be kosher.
Happy locally produced wine tasting!
Wine Tasting Gimp
Tags: ny wine, red fern cellars