I was attending a Spanish wine tasting in the city a little over a week ago that happened to be taking place the same day as the big Riesling tasting.  Which provided me with just enough time to sneak away to one of my favorite tastings of the year.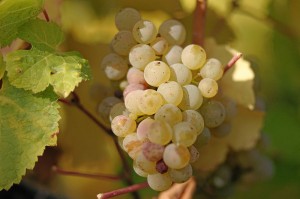 The 2010 Riesling tasting was very much like previous Riesling tastings I've attended.  A nice representation of producers who presently import their wines with several seeking importers.  And of course the favorite table, the library selection, called "1990's – a decade of great Rieslings".  Here the exhibitors had a chance to submit a wine from their library to be shown to the attendees.
I find Riesling to be interesting for several reasons.  It is a white & is often sweet wine (or at least there is residual sugar in it).  Often disrespected, there are many highly regarded wine people who are cult Riesling lovers.  Before attending the first Riesling tasting I'm not sure that I understood the Riesling fascination.  But I think I have since gotten it.  These are wines that when at their best possess an array of tantalizing aromas.  They are incredibly versatile in their food pair-ability.  They can run the gamut from bone dry to thick, rich & sweet.  They come from a cool climate region so they generally have a fair share of acidity – necessary to balance the residual sugar found in many Rieslings.  And as I have learned from the library table at these tastings, Rieslings can have very long lives.
While I tasted a '97 Spatlese & 90 Spatlese that I thought had hints of oxidation, I also tasted Spatlese from '90, '91, '97 & '98 that I found to be incredibly youthful.  The library table also had Auslese, beerenauslese & a trockenbeerenauslese that kind of blew me away.  Sure these are not chugging wines (which wines are?), but the assortment of smells and flavors really is mind blowing.  My favorites were two Auslese.  The 1995 Mo-Rhe-Na Mosel Auslese had a deep lemon color bursting with aromas of honey, lychee, and other exotic fruit.  It was nicely balanced by a lively and youthful acidity and a finish that lingered quite pleasantly.  My other favorite was the 1992 Weingut Pauly-Bergweiler, another Mosel Auslese that was golden in color, and it too possessed exotic fruits, to go along with floral and bubblegum aromas and flavors.  Once again a wine that despite its age, was crisp and lively and showed no signs of slowing down.
So the next time you are out picking up Sushi, Thai or Indian takeout for dinner, stop by your favorite wine shop and grab a bottle of chilled Riesling.  I'm quite confident that you will love the way the wine cools the heat of the spiciness while cleansing your palate with its clean crispness.
Happy Riesling Wine Tasting!
WTG
Tags: Riesling