For the third consecutive year I was fortunate enough last week (May 24) to attend the Wine Enthusiast "Toast of the Town" Food & Wine event at Lincoln Center's Koch Theater (year 1 & year 2).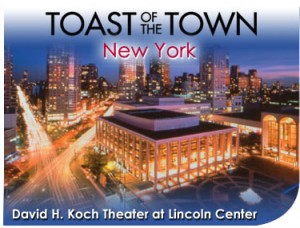 If there is anything negative I can say about this event it is that it is so damn predictable…predictably GOOD!!!
Seriously though I believe that this is the quintessential wine & food event.  There are other TOTT's in major US cities such as Atlanta, LA, Chicago & Washington, DC.  I can only imagine that the others are also quite special.  Top restaurants send their chefs who prepare (sometimes actually cook over burner) small tastes of 1-3 items and distribute to the guests.  And while I was there for the wine, I heard many guests comment how the food was the best part of the evening for them.
But this is a WINE blog, not a food blog.  So I'll keep things short, but I do want to mention a few standout wines.  Though there were probably several hundred (I'd guesstimate about 250) wines there, I only had a chance to samples about 60 wines (I counted 59 short tasting notes though I must have tasted something I neglected to make note of).
Before mentioning the noteworthy wines, I'd be remiss to ignore the flawed wines I found that night.  Now flawed wines happen.  Wines can be corked as much as 10% of the time (though the # is probably closer to 5%).  And other flaws do occur, especially when producers are showing older vintages (which wasn't that common, but I did try an older vintage wine or two).  What surprised me most was the amount of flawed wines I discovered that the pourers had no idea were flawed.  I suppose they weren't all majorly flawed and it is possible that some I thought were flawed were not.  But the fact that the pourers didn't seem to have any clue about the wines I thought was pure laziness on their part.  Maybe I am taking this strong position as I was SHOCKED when a pourer concurred with my assessment of a wine as cork & proceeded to put the wine aside to be "later to the masses". Again, maybe they were simply appeasing me, but with what these producers spend on marketing and to be at these events don't you think they should make sure that they are showing their best???
OK, standout wines (in no particular order)…
I've tried the standard Marlborough Kim Crawford Sauv Blanc before, but here I had the opportunity to try the "Drylands" Sauv Blanc (herbaceous & tart) as well as the "Small Parcels Spitfire" Sauv Blanc which felt more old world in style – restrained minerals and dried grass rather than new world citrus & freshly cut green grass.
I tried a 2008 Fevre Champs Royaux (Chablis) at the Henriot table that was fresh, steely & crisp – all qualities I love about Chablis.  I remarked to the woman (KZ) that I previously did a Fevre tasting that I enjoyed but did not love and she informed me that there was a change of ownership and I might have tasted the wines from the previous owner (Fevre).  I was excited to hear that my palate was good enough to detect a change in style (with the change in ownership)…only to return home, read my post about the previous Fevre tasting and realize that I was WRONG.
Also at the Henriot table was a Champagne (NV Blanc Souverain Pur Chardonnay) that was bready/yeasty with a complex palate and decent mid-sized bubbles.
I had 3 wines at the Francis Ford Coppola table.  The "Director's Cut", a blend of Cab (54%), Zinfandel (34%) & Cab Franc (12%) was velvety soft & complex with an array of fruit.  The "Votre Sante" Pinot, a Cali Pinot (usually NOT my favorite) was light & restrained with a lively acidity.  And the famous "Rubicon Estate (2006) CASK Cab was still pretty tannic, LOADED with fruit, yet super soft on the palate and quite nice.
The Yalumba 2004 Signature Cab/Shiraz was one of my favorites of the night.  Deep, dark ruby colored wine, with cola, mocha, cherry coke & even chocolate aromas.  A fresh & fruity wine that was not heavy and finished long and pleasant.
From Evaton, I most enjoyed the Sogrape 2007 Callabriga Reserva Tinto that had a pronounced tar/cola nose and with soft tannins and a long finish.
I tried the Robert Mondavi 2006 Cab reserve that was pretty good but I probably did not give it a fair chance as it was a "Mondavi" wine.
The Ruffino 2004 Romitoria di Santedame had pronounced herb & cherry cola aromas (do we see a theme of what I enjoy here?) with a light & fresh palate and medium-long finish.
Louis Martini Monte Rosso Vineyard Cab (2005) was deep, dark & brooding, with black fruit, mocha-chocolate & a soft palate.
The Antinori 2005 Marchese Antinori Riserva was already throwing lots of sediment with its lovely red berry nose and LONG finish.
The Hogue Cellars 2006 Reserve Merlot had mocha chocolate & bitter orange peel wrapped around silky tannins and a pleasing long finish.
And among my last stops was PerryMoore Wines to taste their Cabs, the 2006 Beckstoffer To Kalon which was deep, rich, complex & extracted with blue fruit & silky tannins.  As well as their 2007 Stagecoach vineyard cab which had black fruit on the nose, a big, lush midpalate that transitioned to a eucalyptus/mint and a medium-long finish.
In all yet again a winner event.  And while unless you live in Washington, DC (event coming on June 11) you will have to wait until next year, I strongly recommend you keep an eye out as no matter whether you are a foodie or wino there is plenty at the Toast of the Town for you to enjoy!
Happy WE TOTT Wine Tasting!
WTG
Tags: Toast of the Town, Wine Enthusiast