It has been too long.  I miss YOU!  Getting back from Israel has been exhausting.  Jet-lag is kicking my butt.   Furthermore, following the Vlog launch, getting back to actual writing has been tough.  But fear not, I am shopping around for what I hope will be the prefect video companion and I expect to get back to Vlogging ASAP (to the delight of my friends who have enjoyed making lots of fun of me).  In the meantime you will have to settle for my prose…
Let's start with coffee.  I have somehow managed not to become a regular drinker of coffee.  I both fear a coffee dependency, and dislike most of the coffee around.  It either tastes watered down, burnt, or otherwise just not to my taste.  But there is a small NYC chain, "Joe" whose coffee I really like.   I was safe as I only drink their coffee when I find myself near one of their downtown locations.  But while I was out of town the good folks at Joe opened up their 5th location…a short 4 blocks away.  Uh oh…looks like my caffeine intake will be increasing…
OK, getting back to wine, I have been thinking a lot about terroir, natural wines, non-manipulated (unmanipulated?) wines, etc.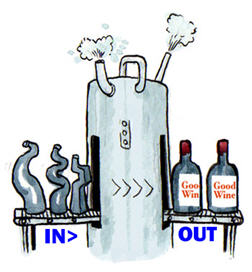 I have also been thinking a lot about wines that really get me to say "wow"!
These "wow" wines, and those "terroir" OR "natural" OR "unmanipulated" wines are neither mutually exclusive nor are they necessarily related.  I'll attempt to differentiate as much as possible in a future post.
But today I bring this up as I (sort of) attended a "natural wine tasting" today.  I say "sort of" as I was accused of being a party crasher at the tasting, and I was subsequently "thrown out".  While I will readily admit that I was not invited by the host, I was invited by an invited guest.  Disappointed I may have been, a wise man recently told me that he does not care to be where he is not wanted.
I did however have the opportunity to taste several of these "natural wines" before my premature departure.  But I found quite a few of them not only to be un-manipulated but also without any personality.  No fruit or oak aromas or flavors and frankly not much of anything but an OVERLY understated and non-descript wine.
HOWEVER, as much as I may prefer not to admit it, I did find an unusually high percentage of wines that were in fact WOW wines.  When I think of WOW wines I am speaking about wines that are in some way unique, often times complex, and really catch me by surprise.  I tried red & white, dry and sweet, and several of them showed subtle complexity with unusual aromas and flavors.  This is what gets me to go WOW.  Your WOW wine can be a drastically different wine.  As long as the wine excites you and get you to say WOW (or "holy crap" &/or a host of other possibilities).
Two producers whose wines I think are worth mentioning are those of Cristiano Guttarolo as well as Francois Pinon.  Guttarolo poured some Primitivo's (AKA Zinfandel), each aged in different vessels; one in Amphora (clay vessels), one in stainless steel & a third in large barriques.  While the two still wines of Pinon were of interest as I picked up a hint of sweetness – that "hint" that actually turned out to be A LOT (17 grams RS) of sugar  that was balanced beautifully by a terrific acidity (each with a beautiful bouquet to add to the WOW factor).
As I continue to process the often times "elitist" quest for natural and terroir driven wines I promise to discuss in greater detail.  But in the meantime…
Happy "WOW" wine tasting!
WTG
Tags: Cristiano Guttarolo, Francois Pinon, Joe coffee, natural wine, terroir, unmanipulated wine