Kosher wine has a ton of stigmas attached to it.  It is all sweet, thick, flabby.  It is only made from the Concord grape.  And of course, it is BOILED.
It a very brief nutshell, NO, not all kosher wine is BOILED – actually I don't think ANY kosher wine is boiled.
So where does this mis-information come from?  It comes from the fact that SOME kosher wines are further classified as "mevushal" – FLASH PASTEURIZED.
Flash pasteurization is a process used by NON-KOSHER wines too, including Louis Latour ("The wine is passed through a heat exchanger that raises the temperature to 72°C for 2-3 seconds") & Beaucastel ("The skins of the grapes are heated briefly to 80 °C / 176 °F and then cooled to 20 °C /6O °F") to name two.  This pasteurization is sometimes done to bring out aromatics, and other times to remove potentially harmful bacteria & "stabilize" a wine much like fining or filtering does.
Kosher wine that has gone through flash pasteurization does so to enable all people (regardless of religion & level of observance) to handle a wine.  (According to Orthodox Jews non-"mevushal" kosher wine may only be handled by Jews to maintain its classification as "kosher".)
I want to break another stigma.
"MEVUSHAL" (flash pasteurized) wines DO NOT AGE.
HA!
I had the good fortune of drinking a 1996 Herzog Reserve Alexander Valley Cabernet Sauvignon wine the other day thanks to a new wine friend.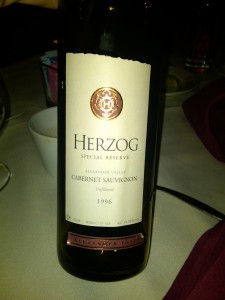 This wine was gorgeous!  At a very mature 14 years old, this mevushal wine was soft & velvety with fresh fruit & berries.  An elegant wine that has aged quite gracefully and had a long luxurious finish.
What can I say…don't believe everything you hear or read (just because you read it on the internet… ;)…).
Yes, some mevushal wines that go through flash pasteurization prematurely age due to poor pasteurization methods.  But when done right, this process seems to have no negative effects on the wine.  On the contrary, maybe it does in fact rid wine of bad bacteria and make it MORE age worthy…???…I know the mevushal Cab from California's Herzog Winery sure aged well!!
Happy Mevushal wine tasting!
WTG