I must be getting old.
I remember wine from 30 years ago (Manishewitz), wine from 20 years ago (Baron Herzog White Zinfandel) and wine from 10 years ago (Herzog Reserve Alexander Valley Cabernet – still a consistently great wine btw).
And while I have not written too much about cooking/food over the years (damn, I've been blogging since 2007) I am very much a foodie and remember restaurants from 30 years ago (Shmulke Bernstein's), from 20 years ago (Noah's Ark) and from 10 years ago (Le Marais).
Seeing where kosher wine & food has come from makes me nostalgic.
SO you ask, where are kosher wine & restaurants these days…???
Well, there are many Cabernet Sauvignon, cabernet based blends or similar big-bodied wines that have been rewarded with high-scores – and deservedly so.  The best of these complex, elegant, full-bodied wines are excellent.
As to restaurants, there are some good ones on the scene now and over the past decade.  Places such as Va Bene, Tevere, Le Marais and the Prime Group.  Old world Italian,  French or American Bistros…places where kosher consumers can bring non-kosher guests & feel proud (kosher isn't just knishes, hot dogs or deli sandwiches).
Well, the point of this whole personal kosher history is a prelude to my observation that kosher food has surged ahead of wine.
I had dinner the other night at Pardes.  This 5 month old restaurant is at the cutting edge of molecular gastronomy with its unique & creative menu, its unpretentious hipster decor & artistic presentation – all at very fair prices.  This follows a recent dinner at Basil (whose menu was constructed by the owner/chef of Pardes) as well as quality time out West in Oxnard California where I was treated to the delectable creations at Tierra Sur.  My experience at each of these three has me confident that we are seeing a new generation of chefs stepping up the quality level of kosher food/restaurants to yet a new height.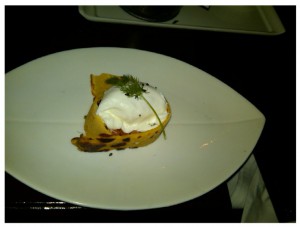 But I fear wine is lagging.  Sure there are some great wines to accompany a good steak or roast, but what about dishes such as Pardes' Salmon Tartare wrapped in Socca & topped with a poached egg, Basil's Parmesan & white asparagus, wood burning oven pizza or Tierra Sur's Fennel and orange zest encrusted Ahi tuna???  Sure there is a decent Chablis, a good New Zealand Sauvignon Blanc and an expensive but nice Laurent Perrier Brut rose' & champagne.  But the selection of good quality kosher wines OTHER THAN big Cab, merlot, zin or Syrah based wines is limited.
While at Pardes the other night I found myself lacking a quality wine pairing for many of the gourmet courses.
In general, there are few if any good Pinot Noirs (will there ever be a top-line Grand or Premier Cru kosher Burgundy?), no decent German Rieslings, French Sancerre or other well-priced high-quality food-friendly wines.  Is there even a demand for these kinds of wines??
While the kosher world should be proud of the upward trend of high quality kosher offerings for both food & wine, I hope kosher wine offerings will broaden to include wines that will allow kosher foodies to accompany their non red meat meals with subtle wines and not just big Cabernet style wines.
Happy kosher food & wine pairing!
WTG