I saw my hand specialist today.
FUN NEWS…I got a new cast.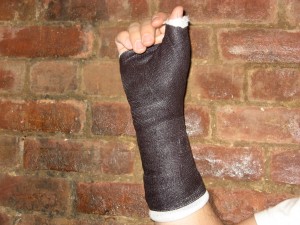 BAD NEWS.
My wrist is NOT healing on its own.  I broke my scaphoid bone.  This is a bone in the wrist, and the location within the scaphoid where I broke it receives very little blood flow – no healing power.  So sadly, after almost 6 weeks in a cast, the break appears to be just as big as it was 6 weeks ago.
It appears that surgery IS in fact in my future.  I am off to Israel tomorrow so surgery will not commence until I return.  This gives me a glimmer of hope that MAYBE it will show signs of healing over the next 2 weeks and we can avoid surgery.  But if not, then it will be 8+ weeks in cast, maybe 9 before surgery.  Then surgery (screws put into my broken bone), re-cast, rehab…arghhh

But did I mention I am going to ISRAEL!!!   WoooHooo!!!!
OK, wine.
I have blogged before about "mevushal" or flash pasteurized wine.  And in general, though the technology is improved, and I believe that the harm done to mevushal wines intended for early consumption is minimal, I must admit that I am not an advocate.  I guess I just figure that if I can have a non-boiled wine or a boiled one I will choose the "fresher" version every time.
Now the biggest knock that people have against mevushal wine is that the flash pasteurization process expedites the aging process, deeming mevushal wines unworthy of long term cellaring.
This past weekend I celebrated a momentous time in my life and while celebrating with new family members imagine my surprise to find a bottle of 1997 mevushal wine, in a closet, standing upright.  The wine, Herzog's Reserve Alexander Valley Cabernet Sauvignon.  A very fine wine in its youth.  But this one was standing upright (prime cork drying conditions), in a closet without any climate control, and did I mention; the wine is MEVUSHAL – FLASH PASTEURIZED.  These wines are not age worthy.  They are boiled.  Come on Wine Tasting Guy, don't even bother opening up the bottle – it is SURE to be a goner.
Well, my hand is now hurting, and I took no formal tasting note, but…
…the wine was BEAUTIFUL!  Alive, soft, complex & DE-LIC-IOUS!
Dare I say my biases against mevushal wines are fading???
Happy (and healthy) mevushal wine tasting!
WTG