so TV Time part 1 was dominated by TV talk.  And I really want to get away from any non-wine related writing.  That said, I can not resist a quick follow up.  After doing some wine sales out in Brooklyn this week I stopped by some friends who moved out to hipster Brooklyn.  It is a cool area and they have a great place.  And it was really good to see them and their young daughter.
BUT, I write about the experience as my visit came with a bonus.  They had just a few days earlier purchased a new TV stand.  Which means WINE TASTING GUY got a TV stand hand-me-down!!!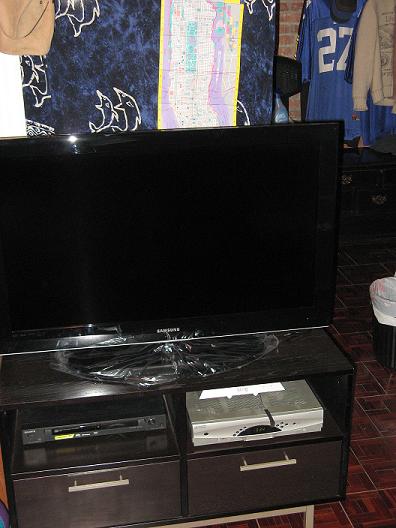 And following up on the wine, I did in fact open the Spanish Garnacha last night.  It was NOTHING like the Australian Grenache.  The Spanish wine (a 2005) was awarded 91 points by Robert Parker.  So yes, it was VERY extracted.  It was a little "hot" as well ("heat" is a term used when the alcohol in a wine in high and out of balance with the rest of the wine).  It did have nice fruit, but overall it is a wine style that I have gotten away from of late.
A final note about the wine is that there were large chunks of sediment.  While this is not unusual for a wine that was likely unfined & unfiltered, to have such large chunks in a relatively young wine seemed a bit unusual.  It is possible that the bottle I opened came from the end of a bottling "run".
Have a fabulous weekend everybody & happy different varietal wine tasting!
WTG